Looking for How To Move From Blogger To WordPress Without Loosing Traffic Easily?
Blogger is completely FREE to use. But when you need more controls on Blog , then should move to WordPress.
WordPress is Open Source CMS ( Content Management System) it provides more controls on your blog. Also you can extend functionality by just installing plugins.
Moving Posts From Blogger to WordPress
Moving / Migrating posts from blogger to WordPress is very easy.
Just Visit Blogger.com, then Login in your blog, Now Select Settings Option from and click on Back up Content.

Now open WordPress Admin and Click on Tools and then Click on Import. Now Click on Install Button of Blogger Importer . After that Click on Run Importer, and select File Downloaded from Blogger.com
Now In next step you will select Appropriate Author & Done. If you found difficult working on it, just watch video below.
That's it , you just completed importing your data from Blogger.com to WordPress.
Moving Traffic to New Blog
This is very important part, because if you did something wrong you will loose all of your traffic.
Find suitable action for you from below options.
Using blogspot.com Domain​
If you are using *.blogspot.com then your blog is currently hosted on Google Server's without custom domain name. Then to get your traffic your WordPress site , we will do some little modification in your site theme.
Open Settings in Blogger & Select Theme Option and Click on Arrow Near Customize & Click on Edit HTML,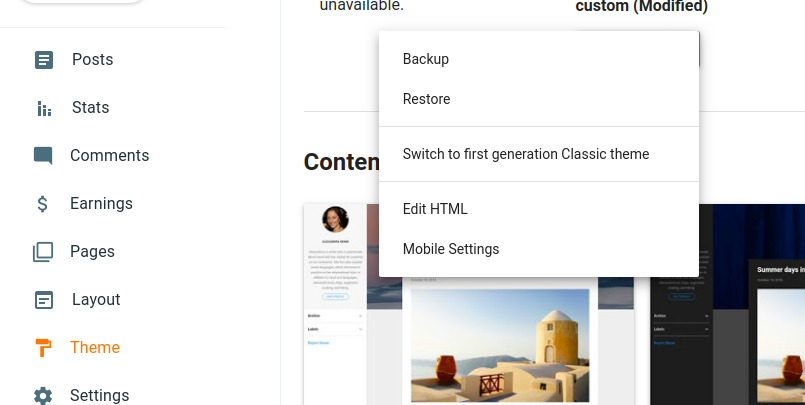 Now You will see some code. Now we have to add code below there. in between **** tag.
You Need to Change SiteURL to Your new WordPress site URL .